Gym & Tennis
Are you the sporty kind? Not in my wildest dreams
Improve your game
Is your idea of a holiday finally having time to do sport? We have everything you need to train and keep fit. Your personal trainer is waiting for you. Summer would not be the same at the Gstaad Palace without the sound of a tennis ball being whacked across the court!
Scroll to find out more
Information and opening times
Fitness room year-round: 8.00 am to 8.00 pm
Tennis and squash courts in summer:
Tennis: 8.00 am - 1.00 pm & 2.00 - 7.00 pm (subject to change)
Squash: 8.30 am - 8.00 pm
Contact our Spa team
+41 33 748 58 90
[email protected]
For tennis courts and lessons
[email protected]
Fitness and sporting activities
At the Gstaad Palace, there are plenty of ways and no excuses to get fit: How about cardio and strength training in the gym, Thai boxing with a personal trainer, Pilates, yoga or Aquafit? You can sweat it out on our tennis and squash courts in summer. Tennis legend Roy Emerson himself will help you to improve your game!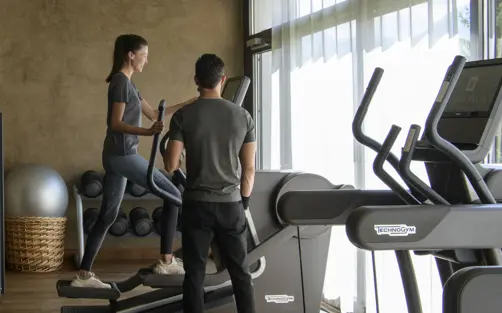 Personal training 
Our personal trainers will put together an individual training programme tailored to your needs. Activities include jogging and strength training, as well as high intensity interval training (HIIT) and balance workouts (BOSU). We are happy to advise you.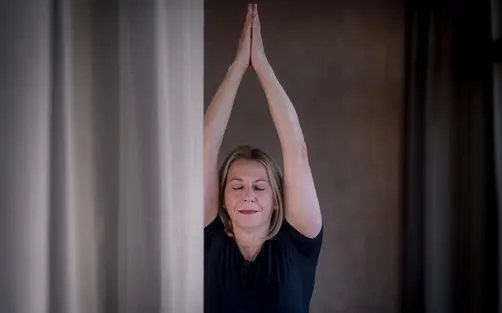 Yoga
Take a deep breath, forget the world around you and tune into your body. Yoga and Pilates instructor Ulrike Spitzer teaches yoga and relaxation exercises that work wonders. Say goodbye to stress and tension, and hello to feelings of lightness and inner peace. Namasté!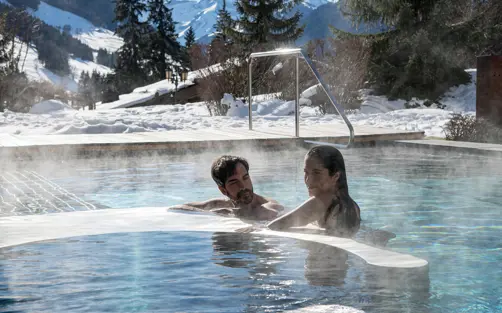 Aqua-Fit
Aquafit is a holistic form of physical training in the water that is gentle on your joints. It builds up your stamina, strength, coordination and mobility. But best of all, the calories simply melt away. Aquafit gets everyone moving, from couch potatoes to top athletes.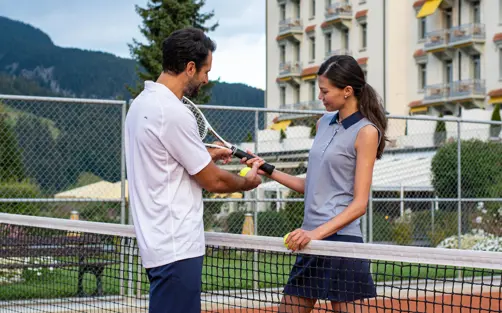 Tennis & Squash
In summer, tennis hotshots can practice their serve and backhand on one of four clay courts next to the hotel. Generations of athletes have swung their rackets here. And if the weather is bad, there are three indoor courts nearby. If you prefer a faster pace, the Palace also has its own squash court.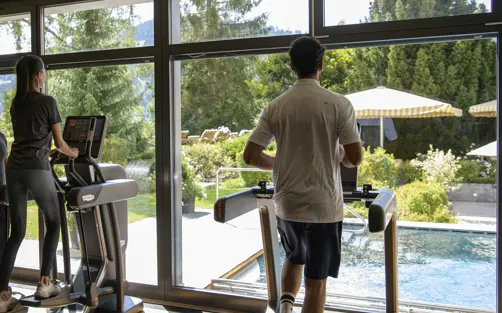 Gym
Do you want to improve your stamina with cardio training or build up your muscles on our strength training equipment? Take advantage of the high-quality Technogym equipment in our gym – while enjoying views of the mountains. Our personal trainers offer competent advice to help you achieve your sporting goals.