People and family
Game, set, match – with Roy Emerson
And the winner is: Roy Emerson. Not Djokovic, not Nadal, not Federer. No, our Roy Emerson himself is still the all-time number one – having won the greatest number of grand slam titles ever. He also has two trademarks that every Gstaad Palace guest is familiar with: bow legs and a unique sense of humour.
Scroll to discover more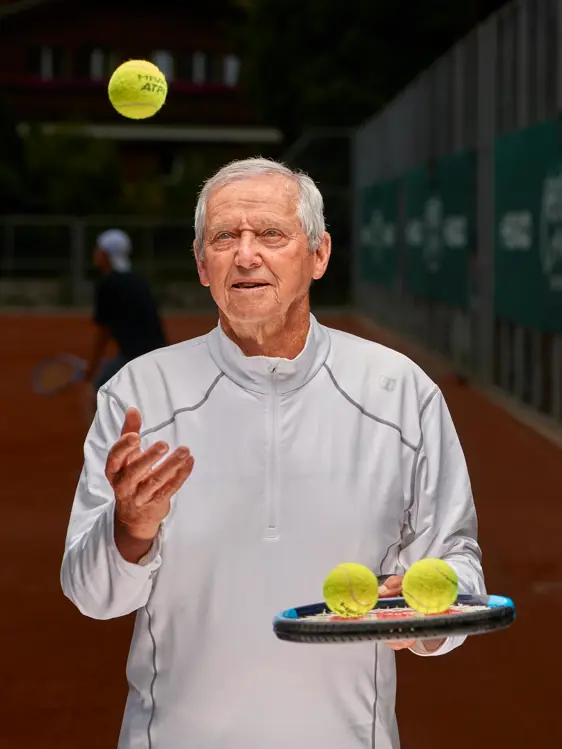 Roy Emerson, the original tennis ace and inventor of the "Gstaad Palace Tennis Weeks", came up with the brilliant format in 1973, together with Ernst Andrea Scherz. The tennis camps on the clay courts of the Palace have been booked out ever since. And then there's the legendary evening entertainment – true to the motto 'Last on the dance floor, first on the courts.' That's Roy Emerson all round.
The tennis ace spends at least seven weeks a year at the Palace. He has won the Gstaad Open five times and the tennis arena has long been named after him. Throughout his international amateur career, Emerson worked alone – or almost. His wife Joy, whom he met on the court of course, has supported him for 63 years, also in the role of manager. She's watched all of his matches, but she never gives him any advice. If there's any advice being given, it's by Roy himself.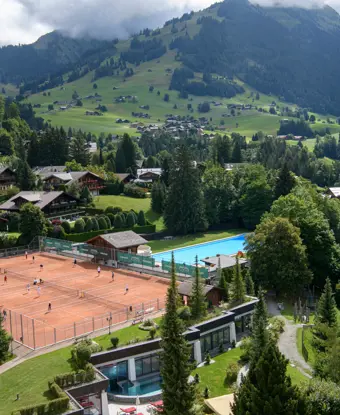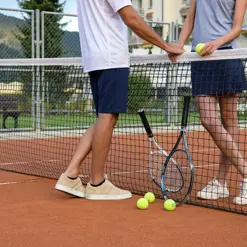 R

ecord-breaker
Roy Emerson
Roy Stanley Emerson is born in Queensland on 3. November 1936
In 1959, Roy plays at the Gstaad Open – and discovers the Palace
The first round of what would become 49 years of "Roy Emerson Tennis Weeks" at the Gstaad Palace takes place in 1973
12 whole years – that's what Roy's time in the Palace Suite 111 adds up to since he first visited in 1959
60 diamond years together – Roy and Joy celebrate in Gstaad
Roy has won the sought-after Grand Slam title 28 times – 16 of them in the Double
Twice he was Wimbledon singles champion, and he won the doubles title three times
He was the world number one for two whole years
Emerson's first prize money in 1968 was USD 10,000
6 wood Slazenger rackets Roy gets through – every year