Season toggler
Gstaad Summer / Winter
Gstaad - a never-ending summer wonderland
Lush green meadows and hills that rise gently towards the summer sky, where they culminate in craggy peaks: The Saanenland region really is divine - not just according to local lore. This corner of paradise with space to relax and explore is almost otherworldly - but definitely down to earth.
Scroll further for Gstaad's summer

Gstaad is full of contrasts: with gentle mountain slopes for ramblers, steep inclines for hikers, and wonderful bends for cruising. The only way is up - for fans of paragliding, gliding or climbing.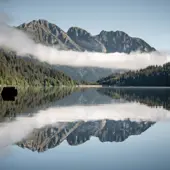 Alternatively, you can hit a ball around the tennis court or the alpine golf course in Saanenmöser. There's something for everyone. That's what makes Gstaad so wonderfully versatile.