Locality and nature
Celebrating the Gstaad summer
When you hear 'Bernese Oberland', you can't help but think of Gstaad – a truly cosmopolitan village. Gstaad epitomises the alpine spirit. It's the place where all those who value natural pleasures, living traditions and true luxury come together. The ten charming chalet villages of the Saanenland offer everything from hiking, golf and biking through to a wide range of culinary delights. And there's always lots going on – the Beach Volleyball Major and Swiss Tennis Open, the Menuhin Festival and Polo tournament, and of course our Country Night. The Gstaad summer is simply unmissable.
Scroll to discover more
Game, set, match – several times over. To start things off, the bright young things of Gstaad go to the beach and celebrate the arrival of summer with all the sand, sun and fun of the Swatch Beach Volleyball Major. The EFG Swiss Open then seamlessly takes over the Roy Emerson Arena, where Roger Federer embarked on his stellar career and big names now battle for those all-important ATP points. Then there's the Roy Emerson Tennis Weeks, named after their famous creator, which take place on the clay courts in front of the Gstaad Palace. On the ball – Roy Emerson at the Palace.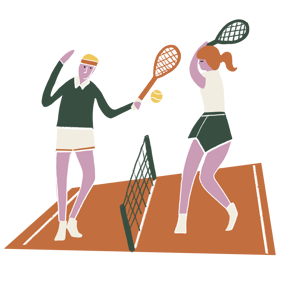 But Gstaad also stands for serenity, both inside and out. For an inspiring walk along the river Saane, we recommend the Yehudi Menuhin Trail – the eponymous festival is also held here every July to September. For those with an urge to scale the heights, we recommend the well-marked hike from the Rellerli to Zweisimmen. It offers sweeping views of the big three of the Bernese Oberland, the Eiger, Mönch and Jungfrau. Or why not float up to the Wispile by cable car and there pick up the trail to Lake Lauenen. The truly intrepid may want to venture out along the Via Ferrata in the Diablerets massif or climb the Rüeblihorn (aka Videmanette). We have highlighted the best routes for you in...
Those who like a bit of pedal power can grab one of the Thömus e-bikes waiting outside the Palace. Gstaad and its neighbouring valleys are perfect for a scenic bike tour. And if a spot of vigorous rowing is more your thing, jump into a dinghy and go river rafting on the Saane or Simme. High fliers can also take to the sky on a paragliding tandem flight. All experiences are available to book online using the Gstaad Card.