Locality and nature
Geared up with LEDs all the way to the tower suite
We at the Gstaad Palace have always been pioneers at heart. How else could we have flourished for more than a century? Our innovative technical solutions and inventions have made us trailblazers on multiple occasions.
Scroll to discover more

From the day the Palace first opened its doors, there was a telephone system in the house – the first in Gstaad. We were also the first to have a cable laid for receiving radio broadcasts. And in the 1970s, our electric awning on the big terrace was a novum among Swiss hotels.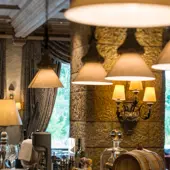 We are always on the look-out for sustainable solutions. Since 2008, we are part of a district heating network which is powered with wood chips from our local forests. And since 2011, our restaurants, hallways and rooms have been illuminated with ecologically superior LED lights – more than 400 of them across the hotel. At the time they were installed, this was a novelty in the Swiss luxury hotel sector. The result is an 80-percent energy saving; and with a guaranteed 50,000 operating hours the LEDs also have a much longer lifespan than standard light bulbs.
The absolute "pièce de résistance" is the evening illumination in Le Grand Restaurant. We will even reveal to you how we achieved such atmospheric lighting. Through the clever use of colour filters, we simulate the warm glow of candle light. It's not rocket science, but it took some inventive thinking.
A marvel to behold!