Families
Asecond home for generations
Feel at home

We are like one big family, as our guests often tell us. They appreciate the real hospitality in our hotel, our sense of tradition, and - probably our greatest asset - the beautiful Saanenland region. But more than that, the Palace has been in our family for generations. Continue writing our story with us!

Sammy's World Summer Highlights 2023
Read on - our family saga
O

ur doors are always open for families

Families need space - space to live, play, sleep ... Our Superior and Deluxe rooms offer the ideal environment. For even more elbow room, choose one of our suites. If your children are old enough, we recommend two rooms with a connecting door. That way, everyone gets their own realm!
Organising your family holiday is child's play!
We treat children as VIKs: Very Important Kids. Our young guests can make new friends in the Kids' Club, supervised by our childminders. From a bouncy castle in the park to the children's pool in the «PISCINE», or "Saaniland" at the former fire station in Saanen - there's something here for kids of all ages.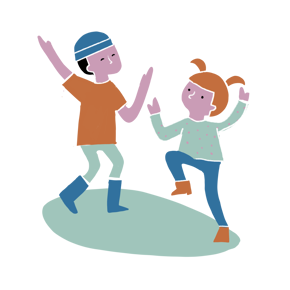 O

ur Kids' Club
- play safe

It's child's play: Young hotel guests from 5 to 12 years can join in the fun and games with their peers at our Kids' Club. The programme changes weekly and is also suitable for 3 to 5-year-olds accompanied by an adult. Please note that some activities, especially those involving sports, are only for children aged 5 and over.
Dive in with both feet: Children in the spa
Everyone is welcome to our spa - including our youngest guests. The spa is open especially for children every Wednesday and Sunday from 9.30 am to 5.00 pm. Our indoor pool is open for the whole family every day from 8.30 am – 8.00 pm. Our Jacuzzi is open to children every day from 9.30 am – 5.00 pm.
Children under 14 years should be always accompanied by an adult just in case.   
Saaniland - for explorers of all ages
The little white goat Saani is Saanenland's mascot. She takes our youngest guests to her favourite spots: to playgrounds, sandpits and cable cars in summer, and to toboggan runs, swimming pools, ski school and much more in winter. Visiting the STATION Saanen is ideal whatever the weather – with lots of hands-on activities to make sure there's not a dull moment!