Locality and nature
«PISCINE» of Olympic proportions
Our pool is in great shape – Olympic shape even! The open-air swimming pool at the Palace was constructed in 1928, and back then it was the only 50-metre pleasure pool far and wide.
Scroll to discover more
Its sophisticated architecture is courtesy of Beda Hefti, alumni of the ETH Zurich. He was well-known for his iconic swimming pools, which can be found throughout Switzerland, from Fribourg, Interlaken and Basel to Vulpera. With his ground-breaking pool design, he brought a hint of the Côte d'Azur to the region – and it's that same Mediterranean flair that surrounds our new «PISCINE». With its casual bar and unique style, it's the place to be in cosmopolitan Gstaad.
As well as being a favourite with our hotel guests, the pleasantly heated pool is also a popular meeting place among locals. It has always been open to the general public, and it still is. Many a millionaire swims his or her lengths here, side by side with the mountain farmer from neighbouring Gsteig, who's in need of a refreshing dip. But our pool isn't just perfect for maintaining fitness, it's also a fabulous party venue.
All grand on the outside and nothing on the inside? Not here at the Palace! The counterpart to our Olympic-sized outdoor pool is the splendid indoor pool with its stylish spa bar. Now with a brand-new look, it's fit for Hollywood again – just like in the old times, when Inspector Clouseau was seen diving in with a backward flip. See it for yourself, in the fabulous pool scene from "The Return of the Pink Panther" starring Peter Sellers.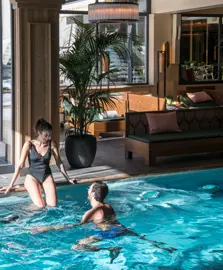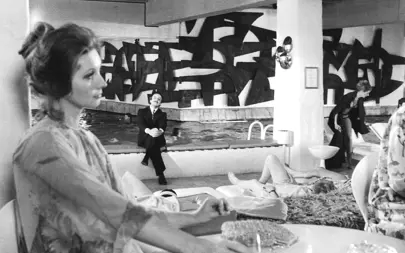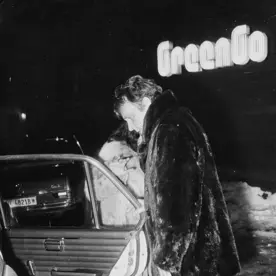 Our Hollywood-worthy indoor pool!
Equally memorable were the wild years of the seventies and eighties, when the indoor pool was covered with a glass dance floor at night and the dancing queens and kings of the adjoining GreenGo nightclub got down to some serious boogying. An elegant timber ceiling and natural materials in tones of warm orange and fresh green link the pool to the iconic nightclub. With its original glamour disco design by Teo Jakob, it's a real must-see even now, 50 years on.