Tradition and history
Flying round the bends
If you've ever wanted to experience a truly special kind of road event, we recommend visiting the Gstaad Palace in August. For three days, a number of hand-selected historical sports cars are put through their paces at the annual Gstaad Palace Challenge. The participants are ambitious bon vivants, who take greater pleasure in a good spin than in scoring a win. Friendly chats and the enjoyment of life's pleasures are never allowed to fall by the wayside during this alpine rally.
Scroll to discover more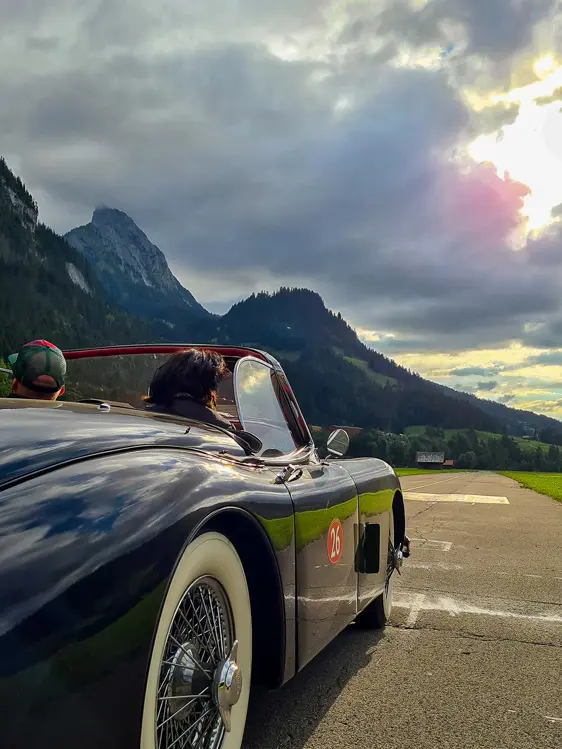 When the host himself revs up
Andrea Scherz usually pulls up in his official vehicle, the Ferrari. The boss of the Palace makes no secret of his passion for beautiful cars. That's why every year, on the last weekend in August, he gets behind the wheel and completes the Gstaad Palace Challenge alongside 30 fellow classic car fans – all of whom are there on invitation, most of them long-time participants. In keeping with the true Olympic spirit, it's all about the taking part rather than the winning.
Cultural delights
Of course, the Gstaad Palace Challenge is largely about skill and the art of driving... and also so much more. Up to 30 crews take to the road in their vintage supercars – all manufactured between 1950 and 1990, from a Bentley or Porsche Carrera to a Ferrari 250 SWB. They wind their way through scenic landscapes along carefully chosen country lanes. Here and there, they take a break and sample local specialities such as crème double with meringues in Fribourg, baked ham from the mines of the Val-de-Travers, or piquant, cave-aged Emmental cheese. After all, anyone with an eye for a beautiful chassis, streamlined curves and polished hood ornaments is bound to appreciate the delightful Swiss scenery and everything else the area has to offer.
In good company
Along the way, the distinguished cars are matched by equally select culinary delights and picnics. The whole event is rounded off with a closing dinner at the Palace, accompanied by fine wines from local vineyards, as recommended by the Sommelier. Finally, the crews swap their steaming engines for a wonderfully fragrant Havana in what is probably the most beautiful smoking lounge on the north side of the Alps, with views of Gstaad by night. By then, any memories of defeat have long given way to excitement over next year's re-match.