Locality and nature
Winter wonderland
Gstaad
Snow queens and ice princes aside, Gstaad in the Bernese Oberland really is the stuff of winter fairy tales. A small village with a truly cosmopolitan feel, Gstaad epitomises the alpine spirit. It's the place where all those who value natural pleasures, living traditions and true luxury come together. The winter wonderland around Gstaad offers everything from skiing – both downhill and cross-country – tobogganing and winter hiking, through to a wide range of culinary delights to be enjoyed in the winter sun. And at the heart of it all, resplendent in white, is the Gstaad Palace.
Scroll to discover more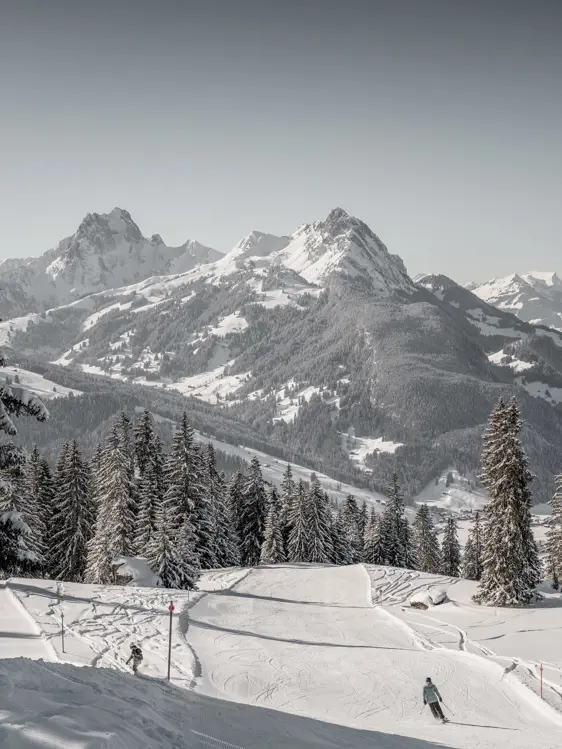 Step through the revolving doors of the Palace and you'll find your very own horse-drawn sleigh and driver waiting to whisk you away on a romantic jaunt through the snow-covered Lauenen valley. Those preferring to pick up the pace on a toboggan have no less than nine runs to choose from in the Saanenland. Sleds can be rented on site for a fee. And if you're keen to explore the wintry paths on wheels, hop on one of the Thömus e-bikes. Equipped with truly hefty tyres, they are always available right outside the Palace.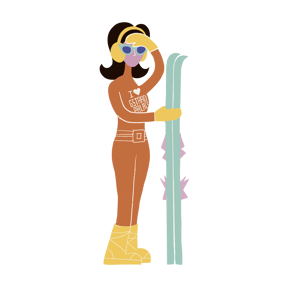 With more than 220 kilometres, the Destination Gstaad ski area has everything you could want. For the accomplished skier, there's the fabled black 'Tiger Run' piste on the Wasserngrat, accessible by chairlift. Incidentally, the original lift was built in 1946, with involvement from the Gstaad Palace. At the other end of the scale are the blue runs that trace the soft inclines of the Eggli. Alternatively, blue, red and black runs beckon on Gstaad's 'very own' Wispile, on the Horneggli-Saanenmöser to Zweisimmen or from Saanen to Rougemont. Further skiing is available on 'Glacier 3000', which is also the perfect setting for a heart-warmingly romantic Husky sleigh trip. Click here for the full range of what's on offer. Many of the cable cars and lifts organise gourmet panorama excursions to rustic 'Beizlis', traditional mountain restaurants serving unique alpine delicacies. All experiences are available to book online using your Gstaad Card. 
Cross-country skiing is widely enjoyed, with routes from Sparenmoos ob Zweisimmen through to the Turbach valley. The network of trails is freshly prepared on a daily basis, ready for you explore. The same goes for winter hiking on specially marked panorama trails. Among the more adventurous, ski touring is becoming increasingly popular – this requires an experienced mountain guide from the Alpinzentrum Gstaad. For nature lovers, we recommend a snowshoe hike through the undergrowth and across snow-covered meadows. All equipment is available to hire from our inhouse ski sports partner.