Season toggler
GreenGo Club
Where dancing queens and disco kings party all night long
The best place to party in Gstaad
Under the pulsing lights at the GreenGo club, dancing queens and disco kings are in seventh heaven. The stylish interior design is straight from the 1970s. Resident DJ Jim Leblanc and international acts spin the turntables with the latest hits. The beat is on!
Scroll to find out more

"I wanna rock you (all night long)": Book a table at the GreenGo for a relaxed evening with friends – or even hire the entire club for a private party. Because as we all know, "Music sounds better with you".
Book a table:
+41 33 748 50 00 | [email protected]
Hire the club:
[email protected]

He plays the music that gets the crowds moving: Resident DJ Jim Leblanc spins the turntables while our Palace kitchen crew provides soul food – from Croque Monsieur to Penne alla Vodka.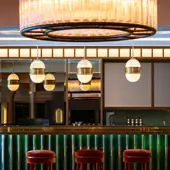 The music hits all the right notes with a new dimension of sound, thanks to state-of-the-art sound technology. The choice of drinks is also hard to beat. A cocktail, or rather a magnum? The choice is yours.
Saturday Night Fever – with drinks and snacks
The GreenGo is better than any fairy tale. We have everything you need downstairs in the Palace's green-and-brown basement: classic snacks such as salmon on toast, Croque Monsieur, Penne alla Vodka or Bolognese. There is a wide range of champagnes and vodkas on the menu. Or how about a cocktail?
The world on the turntables
The line-up at the GreenGo is a treat for the ears: When he's not serving up exquisite club sounds in Gstaad, our resident DJ Jim Leblanc can be found in London, Monaco or Saint-Tropez. Jim has excellent contacts in the DJ scene and gets international top acts to perform at the GreenGo.
Don't miss it: the GreenGo sampler on Spotify