People and family
Important – very important – VIK
Here at the Palace, everyone is a VIP, there's no question about that. But the VIK status, that's reserved for the kids. After all, anything the adults can do, the kids can do even better.
Scroll to discover more

Our legendary "VIK parties", for our "very important kids", take place between Christmas and New Year.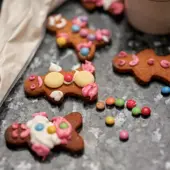 The disco parties are for youngsters only – no parents allowed – and always inject a healthy dose of oomph into our venerable establishment.
Equally popular is the winter wonderland in the Salle Baccarat – you could call it our VIK lounge, where the youngsters can be among themselves.
Plenty of exciting experiences also await in our Palace garden, including encounters with the visiting St. Bernhard dogs and pony rides. It's a dream come true for every little prince and princess.
And for those with a sweet tooth there are special baking sessions. Juniors get to make their own cinnamon stars and vanilla moons under the guidance of head chef Franz W. Faeh.